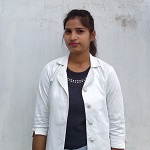 A small girl with big dreams was born in one of the villages of Jhansi. Being a child of migrant labor, mobility from one construction site to another was a part of their life. Jyoti  has six siblings and being the second eldest she had a responsibility of babysitting to her  younger siblings and helping out her elder sister in the household chores as both the parents were construction laborers sweating blood day and night. Jyoti always wanted to take her family out of this economically deprived situation and was aware that the path to reach her goals will require lot of hard work and timeless efforts.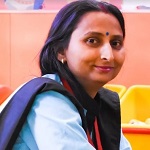 I always wanted to be a teacher, but being the only girl among all five siblings. I had a tough time in reaching school. I was asked to help my mother in the household chores. Financial constraints served as a major barrier in achieving my dreams for education as my father being a daily wage laborer and the only bread earner in our family. After getting married I started working in a school as housekeeping staff. During that time I was also blessed with 2 kids, almost after a decade I felt like achieving my dream of completing graduation, but going back to studies a decade later was really challenging. My children were a part of Ramagya Foundation's(A unit of Purusharth Charitable Society) Unnati program. I anyhow managed to find courage and reach out to the teachers of Ramagya Foundation for their help and support in giving me a quick revision to what I read in school. I am thankful to the teachers of Ramagya Foundation who made it comfortable for me to be a part of their classroom as a student. Ramagya Foundation also helped me out in enrolling myself in the correspondence B.A program. I will be completing my graduation this year which would not have been possible without the financial and academic support of Ramagay Foundation(A unit of Purusharth Charitable Society)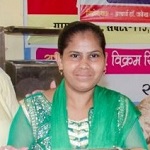 A deaf and mute, mother of a 5 year old childwho has been hound of the husband's house had no ray of hope to survive alone. Monika came back to her mother's place but was clueless as to how to meet her child's need. Monika's mother Sunita devi was a part of Ramagya Foundation's Aradhya program, she introduced her daughter Monika to this program so that she could be a part of Aradhya's sessions that will help her out in being mentally strong in facing this difficult chapter of her life. Monika started attending the sessions regularly and also enrolled herself in the Urja program to earn stitching and tailoring. To support Monika in enhancing her inherited skills and making her capable to earn for her and her son's living, Ramagya Foundation provided her with sewing machine worth Rs. 20,000/-
Today Monika is famous in her community for her beautiful design clothing patterns. She is earning handsome amount of money for her and her family's living. In the year 2019 we have supported more than 30 women like Monika to make them financially independent.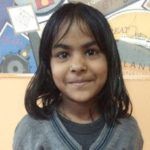 This is the story of Simran. She is 7 years old and studies in class 1. She lives with her family in Barola village, Noida. She has one brother and one sister. Her mother was housewife and father is a sweeper. Simran is very close to her father and shares all her problems with him. She has a strong bond with her mother too. She is very polite and a shy girl who likes discipline. Simran aspires to become singer one day. Simran does not hold much interest in the studies but her parents wish to see Simran educated and successful. "Phle mera bilkul mann nhi karta tha Unnati mein aane ka, merko padhna achha nhi lagta tha. Aab mein har roz aati hu yaha aur achha bhi lagta hai bohot kuch seekhti hu mein yaha" This is 7yrs old Simran after spending 6 months in Unnati. Simran has promised her parents to score well in her exams and is working hard to fulfill her parents dream.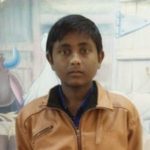 "I can't forget the smile and tears in my parents' eyes when my Unnati class teacher Archana ma'am told my parents that I have come 2nd in my class. I want to work hard and wish to come 1st in my next exams to make my parents feel proud of me. Teachers in Unnati have always encouraged and motivated me." Prashant has a dream to become Boxer. Through RAP program, Prashant has developed confidence to work on his dream as he actively participates in sports activities and take guidance from the coaches. Prashant and his parents are waiting for the brighter days of life when they will see him as a successful person. The little boy is eager to ease the burden of his mother as he feels bad to see her mother working as a cook in the houses.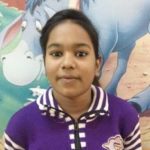 "I want to become a teacher. I am very confident about it and I will achieve my dream one day so that I can aspire underprivileged girls like me to chase their dreams." These words bring so much of encouragement for a society, where people make excuses for not achieving their dreams due to unavailability of resources. Mohini is a student of UNNATI. She is a bright child who actively participates in studies and co-curricular activities. Mohini is a keen learner and willingly take responsibilities in school. Mohini belongs to farmer's family. Her parents do not earn much but they work hard to fulfill her needs. Her parents are very supportive and always attend parent-teacher meetings. "I am happy being part of Ramagya Foundation as I wanted to have knowledge of computer and through Sanganak program I have been able to learn a lot."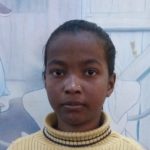 "To become a doctor is not only my dream but also my parents' dream to see me wearing white court. I want to become a doctor for the needy irrespective of the size of their pocket. I wish to achieve this dream to improve the poor condition of my family. I will work as hard as my parents do now so that they can rest when I become a doctor." Little Arti is favorite among all as she is most obedient and motivate all her peers to become a good human being.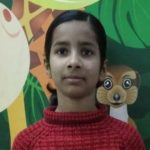 "I am Annanya and I am lucky enough to come from a family which promotes education. My parents look forward to make me as an independent girl and be able to bear my own expenses in future. Even I don't want to be the one looking for someone to feel pity and give money to me." Both her parents are working in Ramagya School and as soon as they got to know about Unnati Program in which teachers are giving remedial classes to the under privileged school going students, they were interested and got their daughter enrolled to this program. Initially, she was hesitant in reading and writing cursive English. She was poor in mathematics when she joined. It has been six months now and she is getting better each day in all the aspects. Her interest has increased in all the subjects and activities such as sports, dancing and art. The teachers at Unnati put in efforts according to the needs of the students. They analyze the initial status and record monthly performance and evaluate the same in every three months. Annanya is in class 5th and is very regular to the classes. We are looking forward to her holistic growth in future. Ramagya Foundation focuses on academics but also in co-curricular activities for the students so that these children get to explore their areas of interest and pursue what they are actually passionate about in future.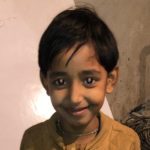 "My parents are putting in blood, sweat and tears to earn a living for the family. I cannot thank them enough for educating me and not forcing me to work and earn for them. Hello, I am Rihanna and I am 7 years old. I love coming to the Umeed center as teachers here are so motivating and friendly. I love the atmosphere of our classroom." Rihanna used to be a shy girl when she joined the Umeed center, barely knew how to talk and sit in discipline. With time and effort that teachers are putting in, she has learnt and grown to be one of the brightest students of the class. She has become confident and very participative. The girl who didn't know how to talk and walk properly now knows how to greet the teachers and elders, recite poems and walk in discipline. Also she is a graceful dancer and performs in front of all the students and showcases her talent. Although she is too young to decide what she wants to become when she grows up to be an adult, but she says she wants to become a big officer in future and we wish to help her in achieving her dream.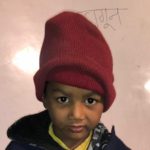 "My family is poor and it is not easy to live the way we are living. I live with my parents, siblings and grandparents. We are a family of six members. Both my parents work at a construction site. My brother and I are twins. We both come to the Umeed center because we both want to study. I want to become a police officer when I grow up." Meet our student Rohman. The twins, Rohman and Rohim are adorable and intelligent at the same time. They are shy but aware of what is happening around. They both were extremely shy earlier and barely spoke and participated in the class. But taking inspiration from the other students, these kids are doing great in the classes. They recite beautiful poems and are doing well academically too. They have a good grasping power. In a month's time, Rohman has learnt alphabets and numbers. He has also learnt the difference in colors which only few of the students were able to learn at his age. He is the most innocent student in our center. We wish the innocence remains the same and this boy grows up to be a successful police officer in future so that he helps his family to come out of poverty.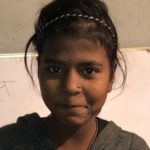 "I haven't been to school yet at the age of 10 but I have not lost hope. I come to Umeed center every day with a dream to become a doctor in future. I don't know if my dream will ever come true but I will continue to put in my best." Afsana is a little girl with big dreams. We all know that becoming a doctor isn't easy but when there is a will, there is a way. This girl has been very regular to the classes and she wants to go to a formal school. Her parents are poor and couldn't afford her education as yet. They both are working as a construction laborers and are in extreme poverty. They are struggling each day but have realized the importance of education for their children. Afsana is an intelligent girl and has been keeping up with the classes since day one. She is extremely participative and performing well in the classes. She rarely misses any class. Ramagya Foundation put in every effort to convince her parents to get her enrolled in a government school so that she can pursue her dreams.